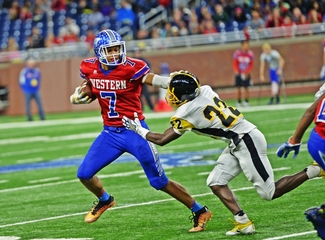 They decided to buck the trend for buckets.
Big Ten football recruits Josh Ross of Orchard Lake St. Mary's and Cody White of Walled Lake Western both decided to stay in high school for their final semester and play basketball, instead of joining an increasing number of prospects who are deciding to graduate early and enroll in college in January. Ross, a 4-star linebacker, signed with Michigan Wednesday and White, a 3-star wide receiver, with Michigan State.
White starts on the wing for Western's basketball team, Ross is a power forward for St. Mary's. Both compete in sports in the spring as well. Ross runs track and White, as he did a year ago, plans on competing in both baseball and track and field.
"I love being a student-athlete at St. Mary's," Ross said. "I wanted to stay here as long as I could. This is my final chance to play basketball and run track, and I wanted to take advantage. There's no need to rush the process." Read full story HERE